You don't have to limit yourself to shed concepts for Garden storage. Sure, they're useful, but if you're short on space, you might want to go with something more streamlined. There are several styles that are both functional and chic, ranging from stylish wall shelves that take up no floor space to innovative furniture with concealed storage compartments. In fact, even if you are the fortunate owner of a shed that you have meticulously organized, it may still be insufficient, necessitating the creation of additional garden storage.
And there's a lot to keep track of in the garden. We're talking about anything from the lawnmower to huge and tiny equipment, the hose, seeds, sofa cushions, flower pots, compost, wheelie bins… Here are some creative storage ideas that can uplift your garden to an impressive stage.
1. Opt For galvanized designs
If you choose the correct designs, smart shelving may be a feature in and of itself. Take this lovely galvanised style, for example, which is ideal for adding a touch of industrial chic to your plot. It has a modular design, which allows you to quickly alter it to match your demands and space. Back panels for pegboards are especially useful for storing tools.
'The galvanized shelves and panels will withstand any weather,' explains String Furniture's Bo Hellberg. 'It will become the most natural spot to preserve your plants and store your garden tools.' We think something like this would be a great addition to your shed, but it would also look great outside as part of your decking or patio plans.
2. Pick A slimline shed
You might be looking for outdoor storage solutions because a shed won't fit, but it might if it's scaled down cleverly. A modest, narrow garden storage shed may not be the boho-chic, fairy-light-filled shepherd's hut of your Pinterest dreams, but it's ideal for storing heavier gardening tools. You may even turn it into a stunning focal point by painting it in a pleasing colour or covering it with climbing plants.
To maximise garden shed storage capacity, this tool shed contains plenty of shelves and hooks. The Sentry Shed also features a log storage area.
3. Multifunctional furniture can help
Everyone enjoys relaxing on a large, comfortable sofa outside in the fresh air. If you have a large family or enjoy entertaining, generous corner designs are a great option.
However, it's no secret that outdoor seating options like these take up a lot of areas, which means you'll have less storage space. There's an easy solution: choose a style that incorporates both.
Take this rattan chair, for example, all of the seats pull up to offer plenty of storage room for cushions, blankets, and other outdoor goods. 'Storage and multi-functionality are the two fundamental features that all outdoor gardens should have,' says Jonny Brierley, CEO of Moda Furnishings, and we couldn't agree more.
4. Utilise the wall
If you're seeking outdoor storage solutions, even the smallest wall space can be put to excellent use. Get a ready-made wall storage solution or make an improvised garden tool hanger by attaching hooks to a wooden trellis.
Wall hooks and shelves are perfect for storing your tools neatly while also allowing them to be easily accessible.
5. A Compact potting bench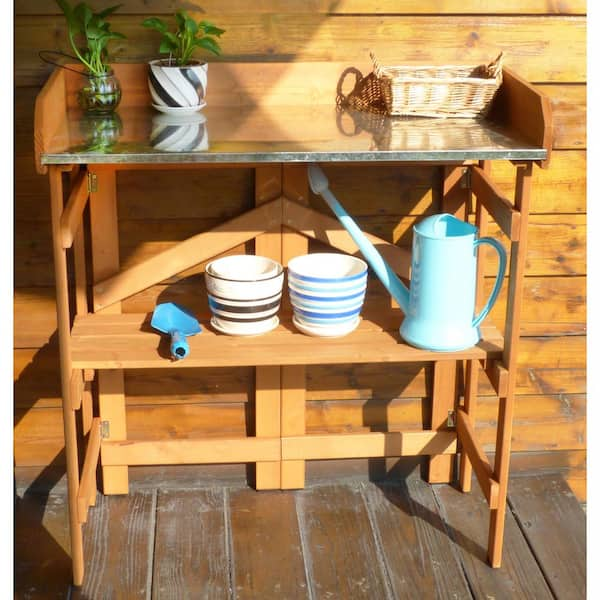 Smart garden storage solutions like these are excellent things to have if you enjoy pottering with your plants.
Its monotone appearance will go well with a variety of modern landscape designs. There's also enough room to keep everything you need for sowing or potting up seedlings within arm's reach. A bag of compost may be kept tidy in one drawer, seed packets in the other, and the area beneath is ideal for tucking larger objects like a watering can away neatly.
Complete the set-up with a matching drawer unit to store any extra tools, labels, and twine if you have the space.
6. Pile up the storage baskets and crates
Smaller, ordinary gardening things can be stored in crates, baskets, and even old pallets. They're also environmentally friendly and will look beautiful in an eco-friendly garden.
No one will know that these wooden crates from A Place for Everything are actually filled with deflated footballs, filthy boots, and neglected garden tools if you stack them high. That's what we're talking about when it comes to creative yard storage!
7. Utilise The Wheels well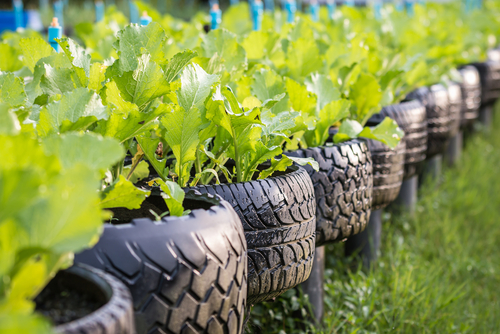 What's better than storage boxes that look excellent, double as side tables or occasional seating, and can be wheeled to exactly where they're needed?
There are numerous robust chests that are ideal for exterior use – many of them are also waterproof – but few are as stylish as these storage benches on wheels seen above.
If these don't meet your needs, an easy DIY project is to alter regular storage boxes by adding heavy-duty castors to the bottom. They're easy to find on Amazon, and they're simple to install in your storage. Choose designs with brakes to keep the storage unit from rolling around, especially if it will be used as a seat.
Also Read: 6 Amazing Japanese Garden Ideas.