Winter is a crucial season in India, and it affects different parts of the country in different ways. Southern states, for example, have a temperate climate; central Indian states have a moderate climate, and Himalayan states have a cooler climate. So, if you don't want your garden to become a shambles as a result of the colder weather, why not plant some winter-blooming plants? 
Here are some of India's best winter flowering plants.
1. Calendula
Calendula is a flowering herbaceous plant with medicinal benefits that attract useful pollinators, repels garden pests, and is even edible. In most areas, it is considered an annual plant that produces a large number of spectacular blossoms after deadheading wasted blooms.
Calendula, often known as pot marigold, can withstand chilly temperatures. They can also withstand exposure to direct sunshine. Furthermore, the lovely yellow-orange blossoms will add to the cosiness of your home!
2. Heather
Winter-flowering heather is an excellent low-growing textural plant. It comes with pink, white, and purple flowers and looks great in containers.
Roots can decay if they get too much water, although the soil should always be moist. The heather flower is resistant to predators and can withstand sea wash. Heather grows best on acidic, sandy, or loamy soil that is well-drained and protected from strong winds.
3. Petunia
These annual plants come in a variety of colours, forms, and sizes. Because of their multi-coloured blossoms, they are used as house decorations. These plants are extremely simple to grow, as they only require ample sunlight and well-draining, sandy soil to sprout their seeds.
Petunias require full sun to avoid becoming spindly. They don't bloom well in the shade. They are quite adaptable, growing well in a variety of soil types as long as the soil drains adequately and does not remain moist. To support optimum growth, the soil should be somewhat fertile.
4. Japanese Quince
A resistant woody plant is also known as Chaenomeles. It has thorny branches with cup-shaped flowers in the winter and early spring.
Because these bushes are robust and low-maintenance, growing Japanese flowering quince is simple. They may grow in full sun or light shade and tolerate most soils except those that are too moist. If you supply water during dry periods, they will grow faster and flower better.
5. Pansies
Pansies are winter-blooming plants that can withstand even the harshest winter conditions. Their butterfly-shaped flowers are lovely and come in a variety of colours. These low-growing plants thrive in the shade, enhancing the beauty of your garden even more.
The colourful flowers with "faces" are known as pansies. Pansies are a cool-weather favourite that may be used in both spring and fall gardening. Here's how to grow and bloom pansies, as well as how to plant them. Pansies have heart-shaped, overlapping petals and are one of the most diverse colours and pattern palettes.
6. Winter Aconites
This plant has beautiful yellow flowers and thrives in the shade of deciduous trees and shrubs. They prefer soil that is rich and moist.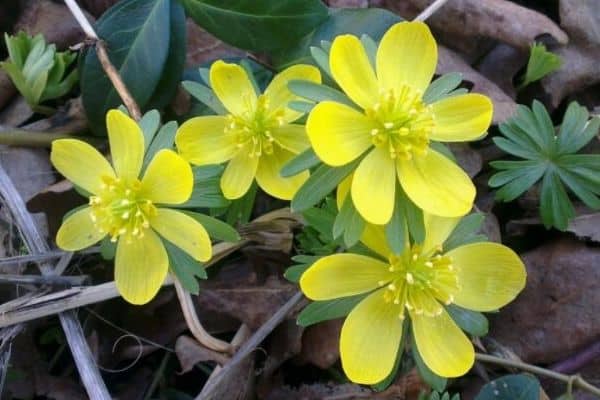 Winter aconite is an excellent plant for covering a sloping landscape since it self-seeds readily and spreads quickly. It's nearly invasive under the right circumstances.
Also Read: Top 7 flowers that you can plant at your house giving your house a fresh pleasant smell.