Main highlights:
Eye-soothing plants

Plants that will brighten up your home
While plants are quite common to place in the garden, some of them can brighten your indoors. Below are a few indoor plants that can boost the positive energy inside your home and add to its aesthetics. They are pleasant to the eyes and can bring a sense of well-being inside the home. 
1. Red-Edged Dracaena –
If you are hesitating about buying indoor plants and assessing the maintenance then this is the perfect option for you. All you need to do is to keep it in a corner that does not receive direct sunlight and make sure that the soil stays moist. This low-upkeep plant acts as an air purifier for your home. It is capable of reducing the harmful toxins in the air. Red-edged dracaena makes the air at your home fresh to breathe.
2. Boston Fern –
Hunting for a housewarming gift? This Victorian-Era fern is still a popular indoor plant. You'll encounter them in the living spaces or hanging from baskets in several homes. This not only pleases the eye as home decor but also removes harmful toxins. You are required to water it timely and provide enough sunlight for its maintenance. 
3. Spider Plant –
Tired of pollution? Harmful toxins mix with the indoor air and stress the eyes, body and make us feel lazy and tired. This common indoor plant is found in many homes. Not only because it's very easy to grow but also because it's capable of removing harmful toxins. It can prevent dust allergies. Also, it is capable of soaking up carbon monoxide, benzene molecules, moulds, and allergens.  
4. Lady Palm –
These plants easily absorb the ammonia that most cleaners leave behind. Therefore, making the indoor air breathable. When kept under low light, its beautiful fan-like ribbed segments are a sight to behold. Lady Palm is capable of reaching a height of about 6ft. 
5. Peace Lily –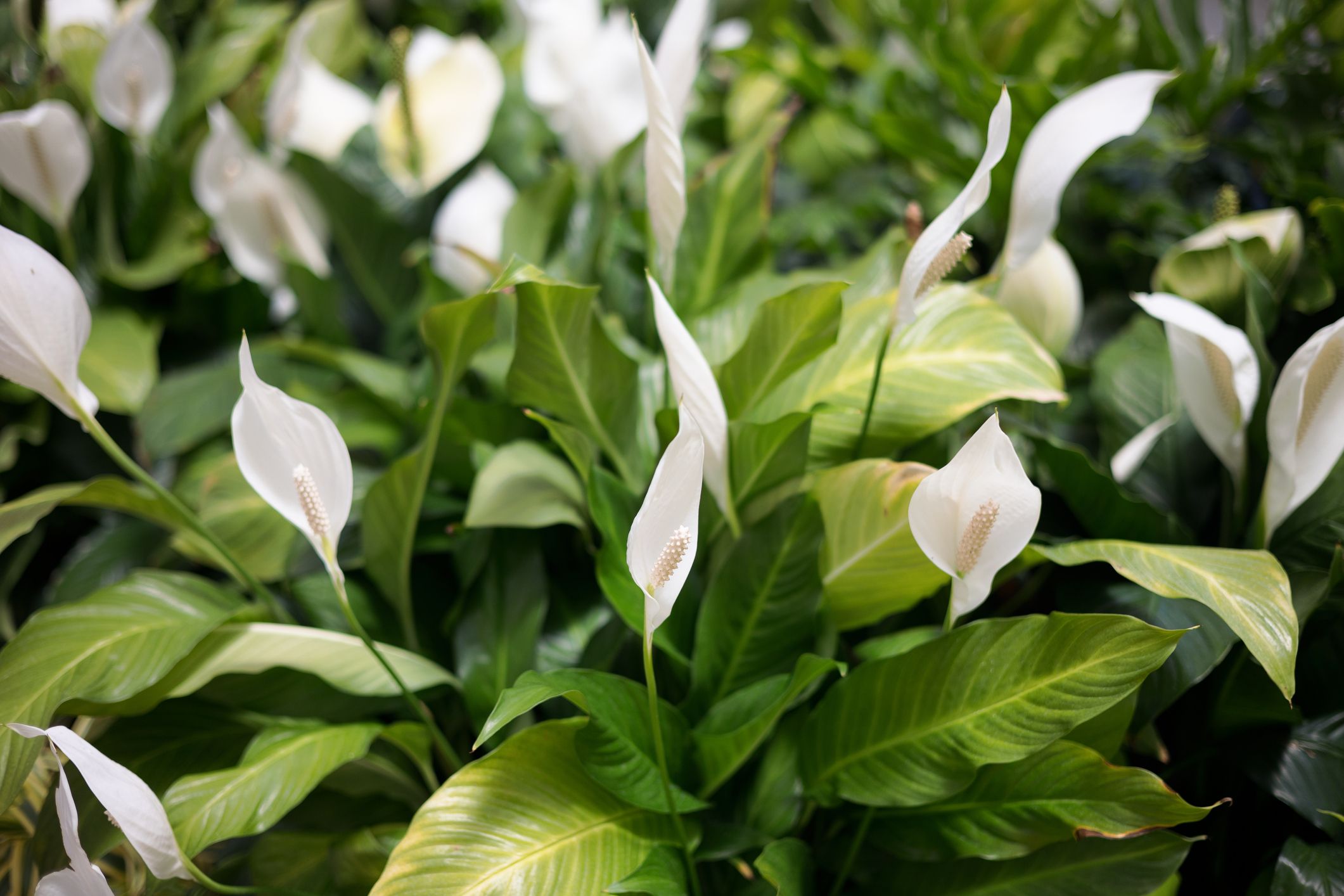 When the list is about soothing plants, we cannot miss this plant. Just like its name suggests, Peace Lily adds a peaceful and positive vibe to the home. The aesthetic looks it offers are a treat to the eyes. Apart from the aesthetic advantages, it is capable of absorbing acetone emitted by electronics. You can also keep it in moist places. It can easily improve indoor air quality by up to 60%.  
6. Golden Pothos –
This stunning plant with cascading leaves gives an unmatchable aura to your home. You can place it in your kitchen or living room and see the weather inside your home change. It absorbs harmful toxins and makes the air inside the home fresh and clean to breathe. 
7. English Ivy –
In case you have pets at your home this indoor plant can do wonders. It can reduce the chances of bacterial conjunctivitis or pink eye caused due to the faecal matter of pets. It purifies the air and makes it comforting for the eyes.  
8. Snake Plant –
Snake Plant makes its way to most luxurious households. It keeps the home free from toxins by absorbing benzene, toluene, and xylene. It adds to the vibrant touch of home.  
9. Weeping Fig –
This underrated plant should not be judged by its name. Having this plant at your home is like owning a low-maintenance natural air purifier. It can filter the pollutants found under rugs and curtains.  
10. Calatheas –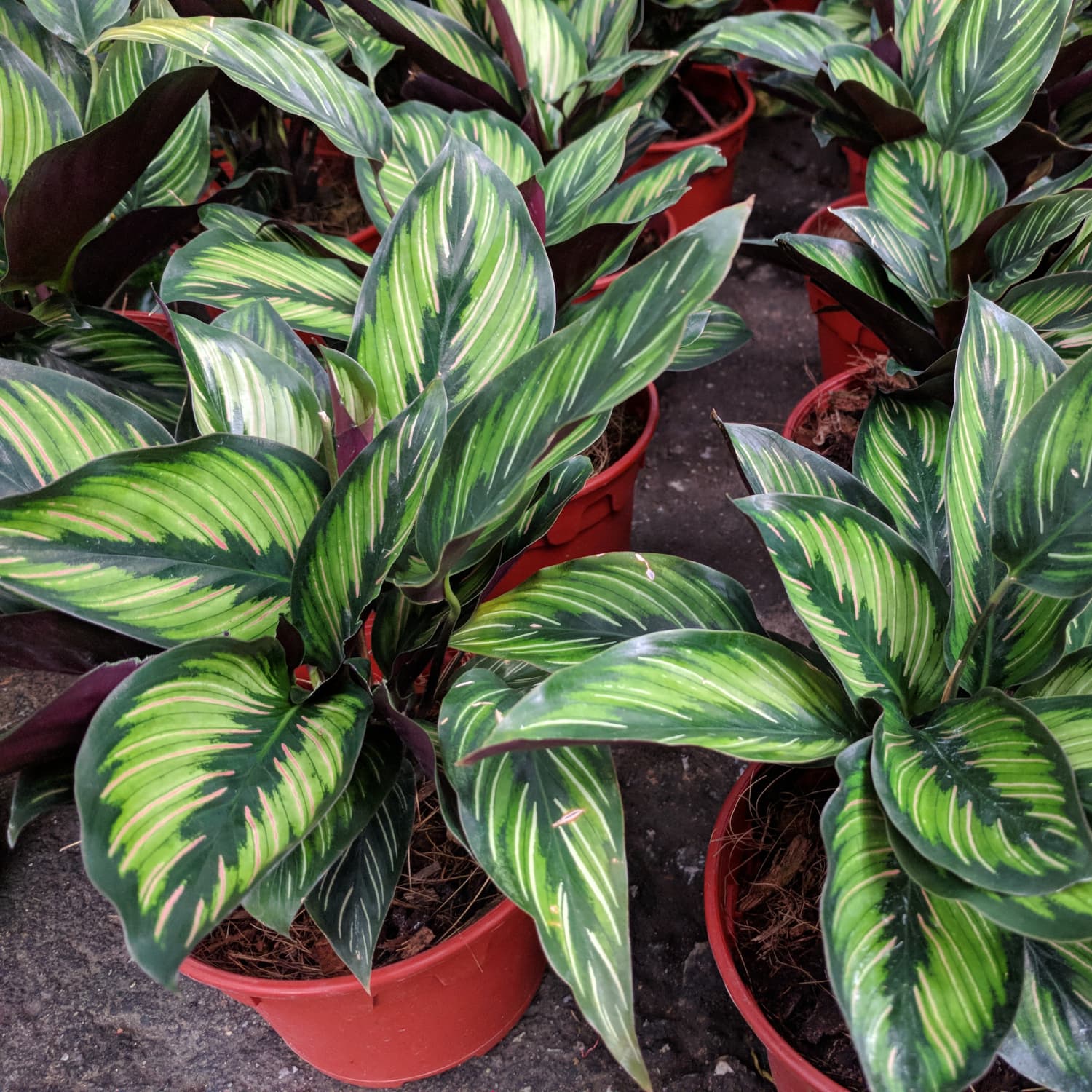 This colourful plant has variegated foliage and looks highly decorative. Its leaves close at night. Apart from adding to the beauty of indoors, it is also capable of purifying the air. Thereby, adding to better weather inside the home. 
11. Jade –
This dedicated and low-maintenance plant comes with elegant pink and white flowers. It is capable of treating warts, nausea, corn, and diarrhoea. As believed by Feng Shui enthusiasts it brings down the stress level to a great extent.  
Apart from raising the standard of living, modernization has brought some adverse effects along with it. The Era encounters more and more people acting oblivious towards a healthy lifestyle, constituting both body and mind. 
Often, we see people criticizing their tight schedules for the dearth of attention they pay towards healing from anxiety or stress. But what if just owning the right indoor plants can help you relax? These eye-soothing plants would add fresh and positive energy to your indoor atmosphere.
Also Checkout: How to Choose the Best Office Plant for Your Work Space